Will the current pandemic change the profession of product management?
That's an open question. But here are some thought starters.
Design Futures Council Australia had the following post on LinkedIn.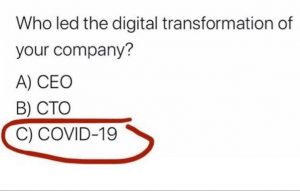 It may be a bit of dark humor, but it raises a good point. The pandemic is transforming businesses and jobs at an unprecedented rate.
Universities had been "dabbling with" online learning for decades with mixed progress. But now most have been forced to offer the bulk of education digitally.
Hundreds of millions of people are suddenly working remotely rather than from a business office. While the productivity cannot be accurately assessed due to the complexity of issues related to sheltering-in-place, the fact remains it's happening.
Millions of people have lost their jobs, and many will need to find new positions in a brave new world.
These are large-scale social experiments occurring in real time. I don't know if they represent a new normal for business. But they do represent new practices, at least some of which will carry into an ambiguous macroeconomic future.
Economists are uncertain whether our recovery will be a V (rapid uptick after bottoming out), U (recovery after a slump), or L (a lengthy depressed economy before clawing back up). There's a ton of ambiguity surrounding the future. But that's what product managers are supposed to be good at.
As a product manager, it's time to evaluate potential outcomes of these circumstances. Do you have the type of product that will be relevant in the new future? Can you identify changes or new products that will be better fits? Will you be able to elevate your productivity and product success while working remotely?
Read broadly. Pay attention to economists, futurists, and strategic thinkers. And stay strong. You are not alone.