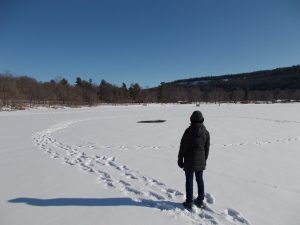 In 1970, a team led by Wisconsin Senator Gaylord Nelson promoted the first Earth Day on April 22. People were spurred into action by Rachel Carson's book, Silent Spring, by the 1969 California oil spill, and by an awareness that the health of the planet was critical for future generations.
That first Earth Day launched a series of efforts. The Clean Air, Clean Water, and Endangered Species Acts were authorized. The Environmental Protection Agency (EPA) was created in the United States. Many countries adopted similar laws and actions. A concurrent Earth Month was established by a citizen-based non-profit.
Earth Day's 50th anniversary occurred at the time of COVID. Two consequences are notable. First, COVID restrictions paused some contributors to pollution. Second, the restrictions made gatherings to celebrate Earth Day's anniversary impossible. I have a few words on each.
Pollution declines
Travel restrictions and lockdowns enacted to slow COVID transmissions have contributed to cleaner skies. Air pollution decreased in many urban areas. This highlights the connection between human action and the health of the planet.
Obviously, this will revert back when all restrictions are lifted. But it begs the question: how can we ramp up in a way that slows down greenhouse gas emissions just as we slowed down COVID transmissions? Both goals require short-term pain for long-term gain. Part of the answer lies in strengthening the legislation (e.g., Clean Air Act) and agencies (e.g., EPA) designed for this purpose. Now is not the time to eliminate regulations put in place to safeguard the planet for future generations.
50th Anniversary celebrations went virtual
Like so many other planned events, community and global meetings were cancelled or moved online. People worked to protect themselves from a coronavirus sickness, while still focusing on pollution and environmental problems causing other kinds of sickness. It was a paradigm shift, but people found a way to make it work.
Do Your Part
Earth Day Network provides the following tips for getting involved in environmental goals.
Get informed. Understand the issues of environmental responsibility at the local, state, federal, and global levels.
Hold yourself accountable. Invest in clean and renewable energy alternatives.
Travel smarter. Combine trips. Walk, bike, or use public transportation, if possible.
Reduce food waste. Eat more plant-based meals. Compost the scraps.
Shop purposefully. Look for products that minimize waste, are sustainably sourced, and support a strong and vibrant environment.
Vote earth. Use the ballot-box to promote candidates that support planet health.
Let's all work together. We've proven we can do it.